New York Times bestselling author of five novels, including Back Roads, an Oprah's Book Club pick; and contributor to several anthologies, including Becoming Myself: Reflections on Growing Up Female. Her work has been published in over forty countries.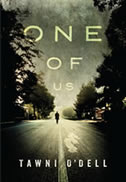 Tawni's latest novel is a literary thriller
about a forensic psychologist forced to
face his own demons and those of the
vanishing coal town where he grew up.
"Twists and turns and family secrets
abound in this tightly plotted thriller."
—
Booklist                    …
more reviews
"
The Oprah Effect
"  blog post
     Amazon | Barnes & Noble | Indie Bound | BAM | iTunes Books